Mole Removal Pen - Skin Tag Remover Kit - Spot Eraser Pro For Tattoo Nevus Freckles Birth Mark with USB Charging & Replaceable Needles
stars, based on
( 3 )
reviews
$39.98$98.98 piece
| | |
| --- | --- |
| Quantity | Price |
| 1+ | $39.98 |
| 2+ | $35.98 |
| 5+ | $32.78 |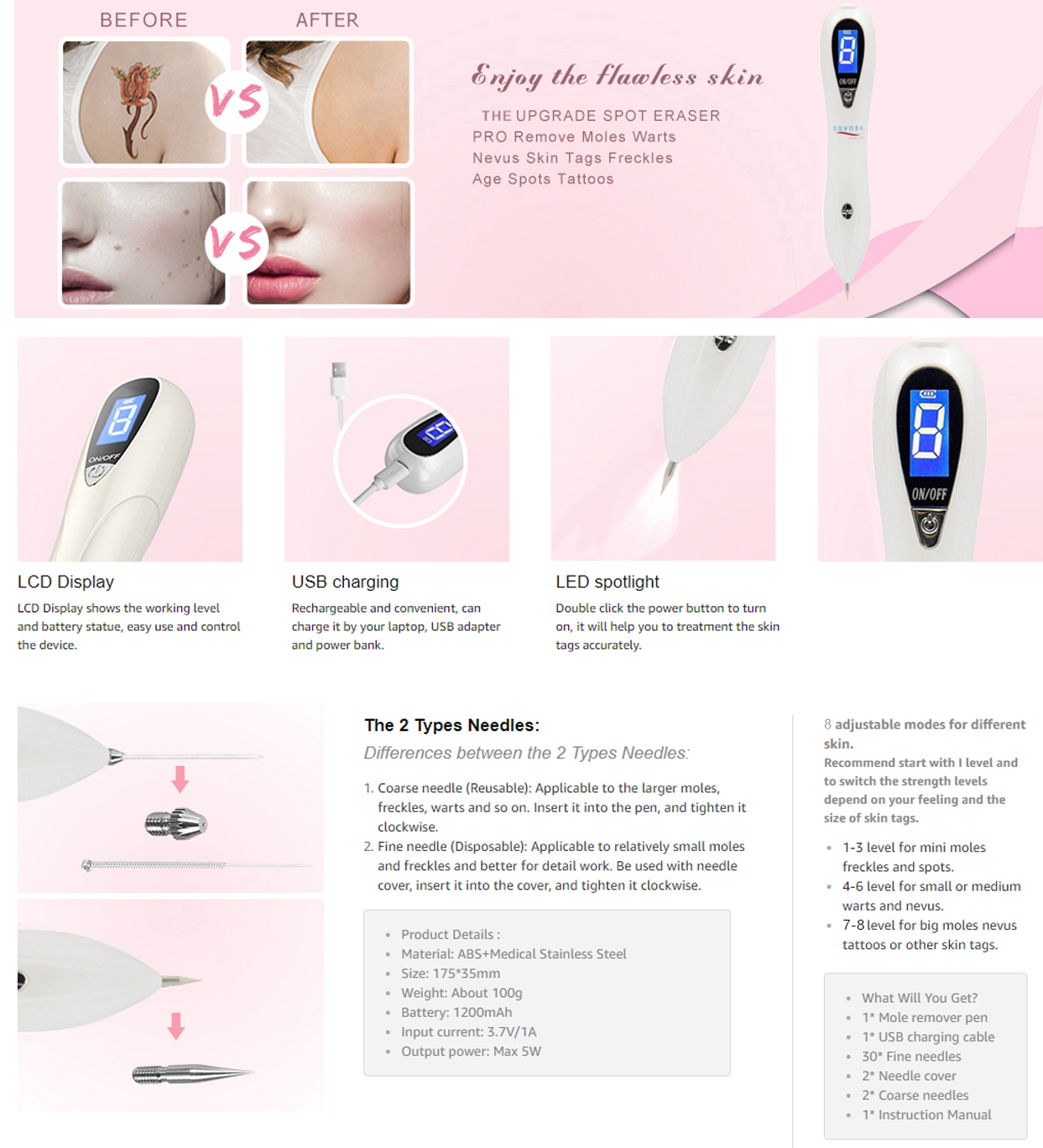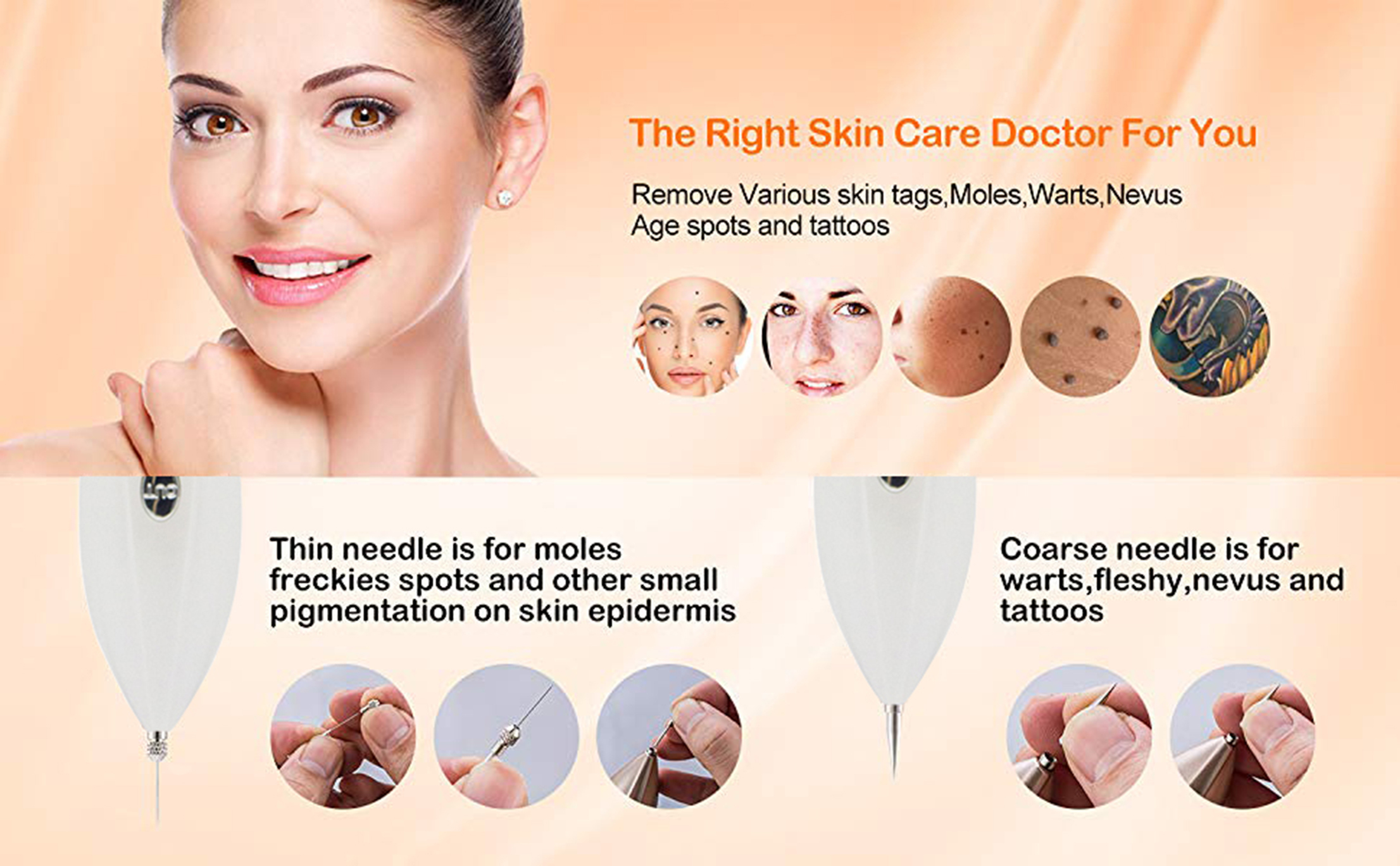 Newest Design: 8 adjustable modes for different skins, USB charging. Designed with an LCD display shows the working level and battery level. Needle spotlight, convenient and practical, security chip. OUT setting button, safe and reliable, makes the device more controllable. What's more, come with the 30 fine replaceable needles, which can satisfy your face or body needs.

HOW IT WORKS: The mole remover pen uses the new generation of plasma micro district discharge technology with low temperature and high frequency. Help to remove mole, skin tags, freckles, age spots, small tattoo, etc. Design for home-use.

HOW TO USE: Long press ON/OFF button for about 3 seconds to open/shut off. Short press the start button to switch the speed level. Hold down the OUT button throughout the process to make this product work. Recommend to clean the needle and your skin with alcohol for disinfection before use.

What's YOU GET: 1 skin tag remover pen comes with charging cable, 2 kinds of the needle; 2 coarse reusable needles and 30 fine needles, 1 needle cover, 1 user manual. Our mole remover kit concludes everything you need, save money and time.

SERVICE GUARANTEE: 100% money back warranty for 30 days. The customer service is easily touched. All our products delivered by Amazon; if you receive the mole removal pen don't work or damaged, please don't be hesitate to contact us. We will always be here to help you.
Mole and Skin Tag Removal Pen: The Complete Guide
It is common to see growths and dark spots on the body, which are known as moles and skin tags. According to researches, it was discovered that approximately 20 moles can occur on an individual's body, and these moles do not pose any type of threat to the body as well. However, at certain times moles and skin tags make a huge impact on an individual's appearance and might cause irritation.
That is why, we at Dovosa, is offering our highly-quality mole removal pens, in order to receive relief from such situations.
How we do it?
The Mole and Skin Tag Remover Pen, which we happen to offer, will be very much beneficial for the user. This is because; it will prevent the individual from spending too much cash, on expensive treatments, but provide the convenience of getting the job done, from the person's own comfort zone.
The procedure will be painless and we 100% guarantee that the results will turn out to be positive, and the skin will not receive any kind of damage. Many people also believed that the Wart and Mole Removal Pen might cause bleeding in the middle of the removal process, however, we assure that such information is not true.
The features
When an individual decides to a Mole Removal Pen Online, there will be a list of features available, which might increase their interest in buying the product. This is because, the Skin Mole Removal Pen, which we happened to offer, has features that are true and accurate. Features include the LCD display, USB charger, LED spotlight are some of the main features of this pen.
There are two types of needles, which we happened to provide, in the kit when you get to purchase the Mole Removal Pen Online, and the needles are reusable and disposable. The reusable one is for the larger moles, skin tags and warts, and the disposable one is for the small one in order to receive a detailed and Scar Free Mole Removal treatment.
There are many other features and specifications, which this incredible pen will offer, and the decision to a Buy Mole Removal Pen through our online website will provide the user with all the necessary information
Get the best mole removal treatment with the right tool
Whether it is a skin tag, a wart or a mole, nothing seems to be impossible for the mole removal pen to do. Designed and created with the latest technology, the pens we offer will provide permanent removal of the moles and skin tags.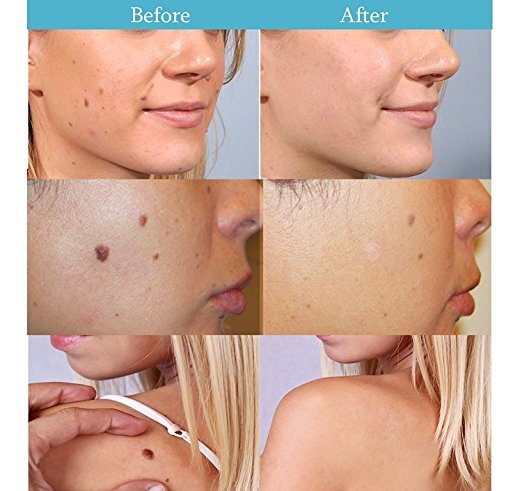 BySteven BartrickTuesday, 26 February 2019
Bought this about 2 weeks ago mainly to remove some small-medium sized skin tags on my neck, some of which have been there many many years. It works very well indeed, zapped the last 2 tags a few days ago and the first 6 or so I zapped are now totally gone, as though they were never there. I try to get the root of the tag first, which does sting a bit, then zap the rest of the tag once it's nerves are fried. That all results in a small blackish scab, which heals and falls off after 5-7 days.This evening I zapped a much larger tag on my shoulder, after having a good go at it's root the whole thing just fell off which was a bit gross. Now there's just a small scab there which I'm sure will heal like the rest. I've only used the 'standard' pointed tip, not tried the thinner needles yet, I'd guess they would be better for more precise aiming of the zaps.The built-in LED light is very handy and I am still on the charge it came with, which I topped up before use. There are 8 power levels but so far I've mainly used level 6, and 7 on the big tag.Be warned you need to get used to the smell of burning flesh when zapping!
ByChris edwardsMonday, 25 February 2019
I have to say that this little mole remover pen is amazing, really simple to use and reliable design, I have successfully removed one mole and a wart, saving time and money, I love it so much, so I'm ready to shoot a video to show you how it simply works, who want to get off the ugly skin tags? Definitely recommend this, check it out! X
Byaddie bartonMonday, 25 February 2019
I did not want to go to a dermatologist to remove my moles so I decided to buy this and try it out myself. I must admit I was afraid of using the product. So I decided to try it on a very small mole that I had on a low setting. To a surprise, it removed my mole. At first it turns red and then it goes away a few days later. Make sure you do not put the needle on your skin for too long. You may leave yourself a scar from the burning. Dabbing works best and make sure you take your time. I am not sure how it would work on a bigger mole. I will have to get used to it first and get comfortable before I work on something larger. Also, the item feels great. It does not look cheap and the quality feels good.
Customers who viewed this item also viewed

Your cart is currently empty.